Here is a list of new features, and enhancements for March 2022
Features
Localisation tool now available
The new localisation tool allows users to localise all Insights within a Suitcase to a new location at the same level. The tool effectively finds and replaces a variable for each category, for example:
State or Territory - Select NSW, replace WA
Local Government Area - Select Wagga Wagga, replace Tweed
SA2 - Select Shepparton South, replace Bowral
You can choose to either create a duplicate of your original Suitcase with your new locations, or replace the locations within your current Suitcase. You will be sent an email notifying you once the localisation is complete, with a summary of any insights that have been localised or those that have failed.
To access the localisation feature, go to 'Actions' and select ' Localise Suitcase'.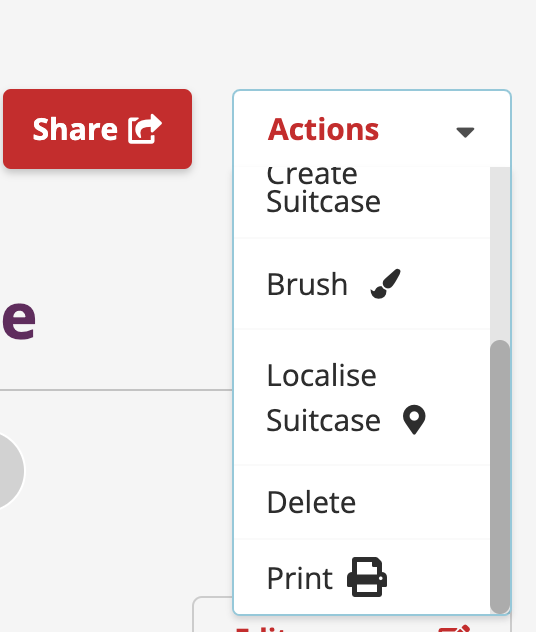 Summaries and Storytelling dashboards need to be updated separately. If an insight has multiple locations at the same level, eg. two SA2s, the second SA2 will need to be updated separately, we are enhancing this new feature to allow multiple locations at the same level in the coming months.
Please note: This feature is available for Plus, Unlimited and Knowledge Hub plans only. Please get in touch if you would like to learn more. In the coming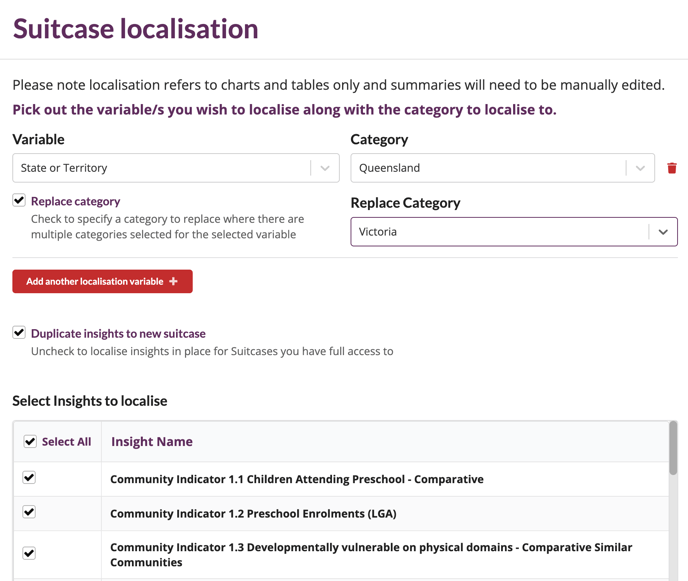 Updated 'avatar' navigation
We have added new items to the avatar navigation:
Group training is now accessible from the navigation menu for any user. Group training is available on the second Tuesday of any month, and ad hoc times can be made available upon request
Self-service data ingestion is available via the navigation for any user or organisation that has this feature available to them to access or create private data templates, tables, manage access controls, review updates or moderate
Developer portal is available via the navigation to query all data available to you and extract to third-party tools via API
New product available
We have just launched two new products based on community feedback.
Self-service data collection. The new feature, usually only available within Knowledge Hub plans, can now be accessed as a standalone add-on to any plan. Get in touch to learn more.
Bug fixes
Speed improvements for returning insights using the Explore Data feature have been implemented
What's coming?
Drag and drop storytelling dashboards
Geo-mapping
Smart Insights
Reporting tool
Seer Learning Lab certification
If you would like to concept test and provide feedback on these upcoming features, we invite you to join our Beta program here.